Space Science AI Simulation
---
CONFIDENTIAL CONFIDENTIAL CONFIDENTIAL CONFIDENTIAL CONFIDENTIAL CONFIDENTIAL CONFIDENTIAL CONFIDENTIAL
I designed systems and simulations leveraging artificial intelligence to make outer space and science experimentation more accessible and actionable.
---
My contributions:
Experiment Builder
Democratizing & commoditizing innovation.
Partners: Accenture, Goodyear, McDonald's, 3M
CAD AI
Contextual text prompts to 3D realizable meshes & solid bodies organized into experimental science systems.
Partners: Accenture, Sierra Space


SpaceSim Engine
Connecting innovations, science models and experiments through AI driven simulation engine that improves over generations.
Partners: Accenture, NASA JSC


Simulation Misc.
Simulate everything, we eat our own dog food.


---
Experiment Builder


This platform levels the playing field in innovation and inventions within companies.

But what does this mean?

Leveraging a company's internal intellectual property, imagination, and creativity, anyone from CEO to interns can create novel and unique innovations that can be simulated, validated and tested prior to investing any resources to its development.

Below outlines an example with Goodyear Tire & Rubber Co. and their intention to do more material testing in space.

Prompt to set the framework.


Feed the engine with context, shaping the science model.


Model interprets experiment and begins to build integrated system.


Engine simulates experiment millions of times with every parameter. Any anomalies are singled out and system adjusts to improve the outcome. This cycles back until the most optimized outcome is attained.


Lastly, customers can choose to bring experiment to reality with our payload partners to test in outer space or any extraterrestrial environments.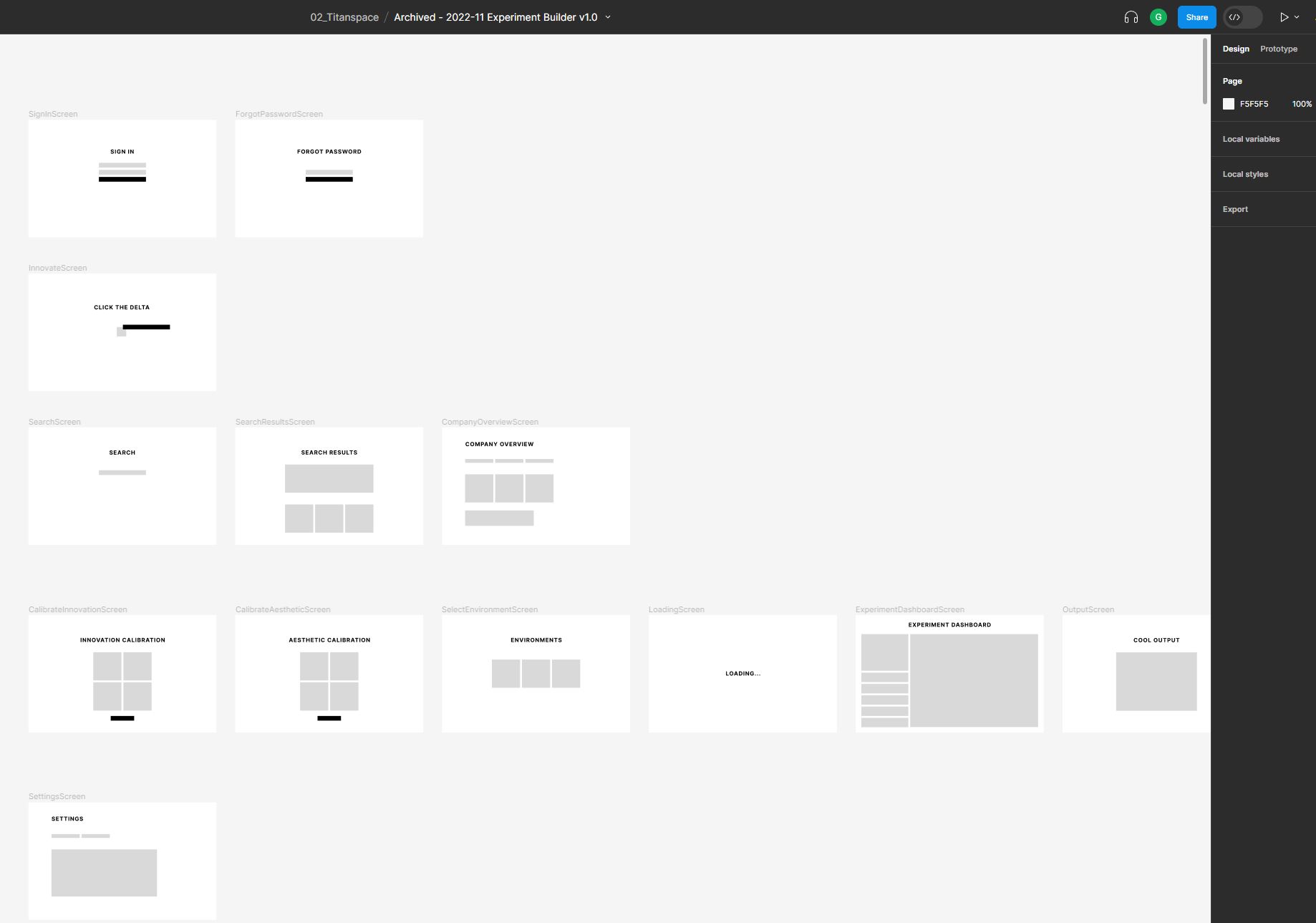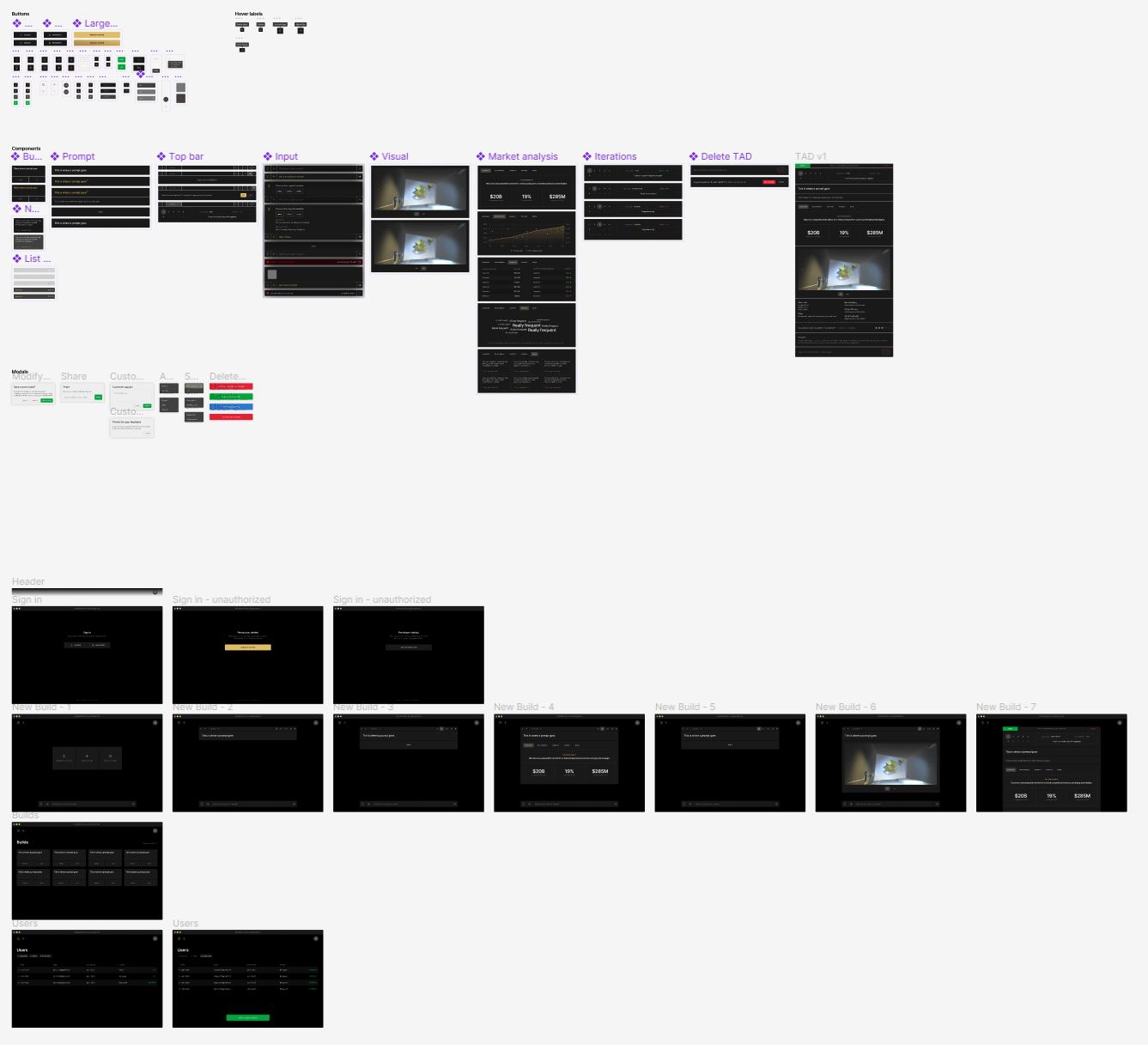 ---
CAD AI


Artificial Intelligence is still in its infancy and really hasn't successfully bridged the gap between digital and reality. With our Experiment Builder, we are able to outline novel science test systems but molding them to three dimensional space is the purpose of CAD AI.

The output of Experiment Builder are experiment and technology details.

CAD AI takes this information, along with ingested internal and vendor material and part libraries, documentation, and generative 3D sources, to aggregate a test system of necessary componentry.
CAD AI is comprised of two systems that work hand-in-hand: an Aggregator and Component Estimator.
Aggregator takes experiment and technology details and creates a 3D layout of the test system.
Component Estimator takes layout volumes and carves away each necessary component based on available information.
Below is showcase of the CAD AI pipeline. This example is a brief provided by Sierra Space with plans to fly to ISS. Using their spaceflight-ready components, create a KDP crystal growth experiment in microgravity.
---
SpaceSim Engine


This is our AI driven simulation engine that connects generated experiment details, science training models and system test bed. SpaceSim engine performs that experiment repeatedly against a range of set parameters to acheive a chosen goal. Result anomalies are singled out and rectified causing the experiment to improve over generations.
All of these simulations, in turn, better the underlying science model for use in different future test experiments.

Below continues the example of KDP crystal growth in microgravity with growth visualization randomly generated in TouchDesigner.
Looking a bit further from microgravity, our goal is to accurately simulate environments anywhere in space from distant moons and planets to starfields. Many universities including one of our partners, University of Arkansas, already simulate extraterrestrial environments. We want to do this digitally as this would allows us to create products and innovations optimized for those environments.

This would mark the beginnings of a space economy.
Below is an Unreal Engine visualization of our Titanspace environmental sensor probe, named SpaceBox, on the Moon and Mars. They're placed to take in the environment and simulate its effects on objects. Here, it is differing gravity on a banana.

Future intentions would be to test other environmental and physical parameters from pressure and UV exposure to elasticity and degradation.
---
Simulation Misc.


Simulate everything.

Practice what you preach.
Redesign of the Titanspace Space Box.

Thematically, we've gravitated towards a black box. Ideologically, a black box is defined by a system that ingests inputs and releases outputs with no knowledge of inner workings.

Redesign inspired by salt; the essence of life as it is the transfer medium paired with water. Hydration, salt bridge batteries, and preservation are all aspects of salt. It's transference properties conceptually describes the purpose of these environmental probes.
Photogrammetry 3D Scan > MetaHumans > Unreal Engine > Mixamo Goofy Run
Simulate People? Worth it.
Layout ideation of potential Titanspace workshop in Atwater Village.
Taking real world 3D scan data from the first lunar rock retreived by NASA and morphing it into digital objects. This further blends the worlds of analog and digital with the idea that simulated digital forces will closely resemble real world forces.